Features:
Can configure to X-Y


Range of Travels ▒3 inches


Economical Precision Rolled Lead Screw


Large opening for X-Y Inspection


Choice of lead screws




Ball or Crossed Roller rolling elements




Can be mounted in any plane


NEMA 23 motor mount or hand crank


Will operate with OES' line of motion controllers

The Crossed Roller version is ideal where offset or heavy loads are present. This version is capable of providing smooth motion under heavy moments.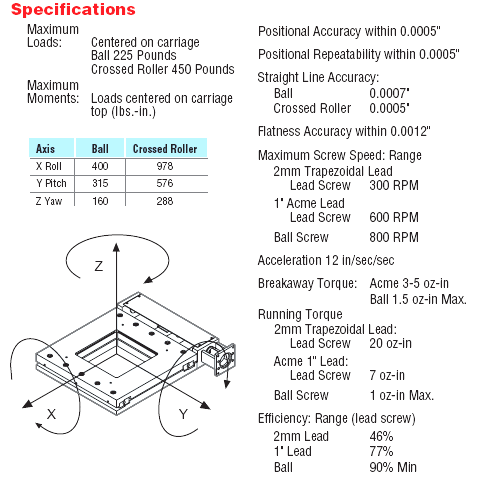 Definitions
Positional Accuracy:
The maximum error between the expected position and the position actually achieved by the motion of the system.
Positional Repeatability:
Tolerance within which a positioner returns to an exact location.
Straight Line and Flatness Accuracy:
This is the amount of deviation from the ideal straight line of travel. Straight line accuracy is the deviation in the horizontal plane, while flatness is the deviation in the vertical plane