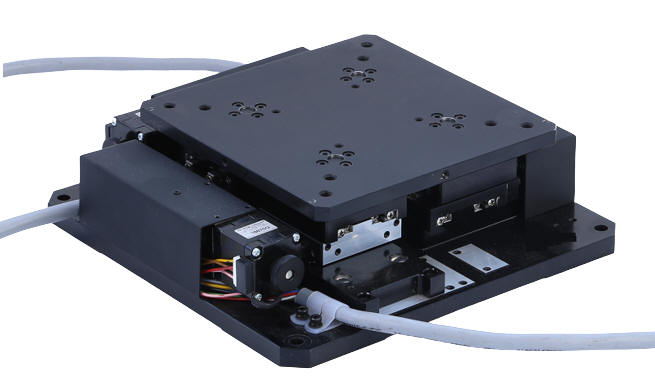 XYR series motorized all-in-one three-axis stages are paralleltype alignment systems for the workpieces which are needed to be scanned or aligned in production lines to meet requirements of high precision and high operation repetition rate.
Each XYR all-inone stage system includes upper-table, baseplate and four units of motion modular between them. Every module is guided by crossroller guides and bearings.
Three of them can be driven by shortlead ball screws, with standard stepping motors.
Five-phase stepping motors and servo motors are optional.
Central position of stages is used for keeping a light-through hole for transmissiontype applications, or, keep a standard table without hole to meet the requirements of reflection-type operations.
•Using ball screws to meet the requirement of high precise and high repetition operations
•Better motion accuracy is guaranteed by employing crossroller guides and bearings
•Standard modular-design principles present better uniformity of parts and shorter delivery time of products
•Rectangular light-through hole is provided to make stages be suitable for transmission-type applications
•Two-phase stepping motors are standard. Five-phase stepping or servo motors are optional

This series is surface treated to ensure durability and resilience. It moves in XY-plane and rotates around the center of the XY-plane.